5/18/08 on The Garden Police: "Tarzan Stops Here"
Someone forgot to tell David Gerrck that collecting pots and plants is not the same as gardening. Being busted by the Garden Police is the only way David's going to clean up his patio jungle and front yard mess.
Read more...
5/11/08 on the Garden Police: Garden Blues
The homeowner of this eyesore is a punk rocker who irreverently uses his yard as a motor cross racetrack. Don't miss the Garden Police as they transform this tough, torn up yard into a delightful, lush Southern Paradise. You'll find out, every rocker has a soft spot for a good-looking yard.

For more information and show schedule, please visit the Discovery Home Channel.
5/11/08 on the Garden Police: "Ouch, My Yard Hurts"
You will delight in seeing the Garden Police rescue the neighbors from this danger zone of a yard. Killer cactus has taken over the parkway, pricking the mail person and innocent pets and passersby on a daily basis. Shirley and Michael take the sting out of this ugly yard and transform it into a "Southwest" inspired garden with lots of colorful heat tolerant plants and an original rain-chain fountain!
Read more...
5/4/08 on the Garden Police: Like Father, Like Son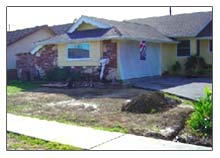 Meet Ernie and Kirk--a father and son pair who say they've tried to tackle the immense project of turning their yard into something wonderful. The Garden Police turn 43 years of abandonment into a refreshing woodland retreat in two days and offer the duo a great father and son bonding experience.
Read more...
5/4/08 on The Garden Police: "In Bare Dispair"
Desi and Debe Kepe are very proud of their new house- the inside that is! The Garden Police bust the negligent homeowners for ignoring the "curb appeal" of their home (homeowner Desi is a real estate agent and should know better). Fortunately for them, their home is not on the market, because their landscaping is way off the mark!
Read more...
<< Start
< Prev
1
2
3
4
Next >
End >>
Results 6 - 10 of 20