5/18/08 on The Garden Police: "Putting Greens Gone Wrong"
Page 1 of 7
Discovery Home Channel "Garden Police"
Before and After Gallery

(Before)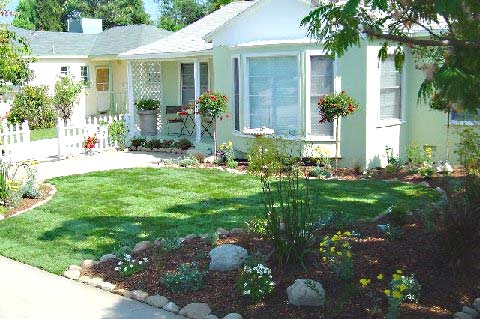 (After)
The Violation: The first Garden Police project brought us to a house that looked like a meteor hit the front yard! A three-foot crater dominated the yard as did tall weeds and mounds of rotting soil. The homeowners allowed their teenage son, Daniel, a landscaping student, to create his dream yard- a putting green in the front yard! Okay, so that was mistake number one. Never put a putting green in your front yard even if you are Tiger Woods! Tacky. Daniel dug out his putting area but was forced to abandon the project due to the heavy rains of the season. By the time the soil had dried up, he had a new weed garden to deal with and the neighbors weren't too happy about it. Enter Garden Police, Shirley Bovshow and Michael Glassman to the rescue. The family was cited for a long list of gardening and design violations and were put to work, making right a putting green that had gone terribly wrong!